#2 TheMajorArc
Things that matter to us in our work, technology, cities, food, and even a shirt. Let's revalidate our wardrobe.
Welcome to issue #2 TMA. The message is in the headlines but so much of meaning is lost between the lines. The issue includes readings in:
01 Tech Tech

02 Closer in Life

03 Attention

04 Open Browner Tabs
Enjoy!
---
01. Tech Tech
Sustainable cities and cultural heritage
In the past ten weeks, I have attended at least ten events on city design by different organizations and communities—by Co-Matter, SPACE10, The House of Beautiful Business, SDN, and a few more. The current pandemic has ignited the need to plan our digital life around our physical world, space, energy, and people—which means cities.
The digitization of the world's cultural heritage per se is not enough. What digital artifacts and written records of things, places and people need is to evolve into high-quality, well interlinked machine-readable data.
We need to also walk the extra mile to make sure digital records carry the rich context they need so their items can unfold their true potential of being knowledge portals. My friend, Teodora Petkova gets technopoetic when she writes If Curiosity Cabinets Were Knowledge Graphs.
———-
Tech Tweet
John Cutler asks UX researchers
"I'm interested in the differences/overlaps between the research you do in your organizations vs. the research product managers do in your org (hopefully you pair as well, which is another angle)? How does the mix work?
Here is my reply to another important angle in any product research.
Do you have any example or a post of talk to share how design research converges into marketing research? Hit reply and I am interested to know.
———-
Tech Enlightenment
I know the folks at The Happy Startup School, and they invite you to The world's first festival of nothing where there's nothing to do and nowhere to go.
A Day of Nothing.
Technically, we can't do nothing. We are always doing something, whether that is just breathing. So what does nothing mean, that we can make a day out of? 
20 June 2020, and you can sign up today.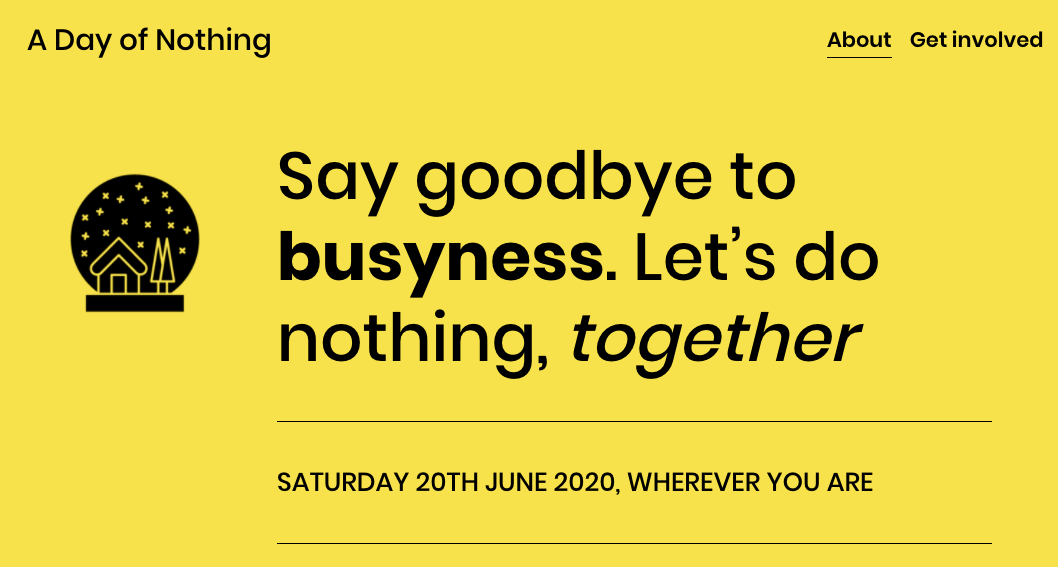 In actual fact, it's pretty simple. 
The real value of this day, the real reason we need it is this: we are taking a whole day to not listen to our minds. We are breaking from what our mind thinks we are supposed to do.
———-
When Tech is Super Cool
Share Screen. Haven't we often noticed it or following it in our meetings, right from Skype, to Google Hangouts, to Zoom, to that Nth tool that was released yesterday?
Share screen.
Now go back and think if there was an option to *Share Scream*! Isn't it cool where all the participants can share their screams for what bothers us most?
Share scream!!!
I spoke to Maxim a few days ago and he is super cool. So, he is absolutely the right person to propose this idea.
---
02. Closer in Life
How do you describe what you do?
In one of the online meetings with a group of founder friends, a second-time founder asked me what I did. He had seen my LinkedIn but he wanted to hear it from me.
"I help startups fail early if they are destined to," I said.
I help founders validate, onboarding, content strategy, design blah blah… they already knew it. In the context of the situation, we should craft a few alternate statements that introduce our work to our friends and contacts.
I marveled at the way a shoe-maker describes what they do. Here is the story on AEON, watch it yourself.
———-
What selfies do you miss most?
To people with the privilege of eating out in restaurants often enough to miss them, it's a loss of camaraderie, celebration, atmosphere, and the feeling of a curated experience.
So what kind of selfies do you miss most?
The time and place where we are outside and yet alone, and we can be ourselves in front of the mirror. (Read the story on Vice.)
———-
Why Covid-19 remains relatively rare in Japan
Covid-19 remains relatively in control in Japan although they had limited restrictions on social distancing and they never really made into the news for testing or lockdown.
Unlike English or Chinese, speaking Japanese requires relatively little inhalation and exhalation, potentially reducing the opportunities for pathogens to spread.
So, language plays its role? (Credits to the amazing newsletter by Mario G.)
———-
---
03. Self. I attend, therefore I am.
What makes any self?
Myself, yourself, herself, or themselves? Founderself? Customerself? And, what makes it complex?
Carolyn Dicey Jennings, assistant professor of philosophy and cognitive science at the University of California, Merced, says that - "Attention comes about due to the interaction between our interests and the resources shared by those interests as a whole—by thinking about flocking behaviour." (Read the story here on Aeon.)
---
04. Open Tabs
A few select readings from around the world:
Video Meetings: MeetButter—A frictionless experience for video meetings with real built-in use cases for quick standup (MeetButter)

Diversity and Exclusion: The unconscious ways we exclude each other (The Correspondent)

Designer's Homes: A Twitter poll on designers' homes (Poll)
---
I hope you enjoy this issue. Any feedback or comments, please write to me anytime.